Quite some time ago, when my oldest child was young, my husband took over the role of chief breakfast maker. He fiddled around with a variety of dishes, but ultimately we figured out that feeding the children a breakfast that is high in protein and fats is the best way to ensure that they aren't asking for a second breakfast by 10am (most of the time). Alternating between eggs, hash browns, and bacon some days with homemade burger, egg and bacon breakfast sandwiches on the others is the perfect combination of convenience and nutrition.
As you probably know, there are very few, if any, quality English Muffins on the market. Most have weird ingredients and fillers, and average out to $1 apiece for the higher quality options. Since I purchase my flour in bulk, I save myself some cash by spending a little time on making these beauties by hand. Using a blend of ancient grain flour and heritage grain red fife from Plain Farm here in Minnesota results in deep flavor while remaining light enough to give the puff of nooks and crannies that everyone recognizes in a good English Muffin. By adding sourdough starter and time, our Sourdough English Muffins have become our favorite transportation vehicle for meat, eggs, butter, jelly, or as a stand alone snack.
Remember to start with a healthy, well fed starter. Add some high quality flours, and prepare to be delighted with your results.
Yield: 36-48 muffins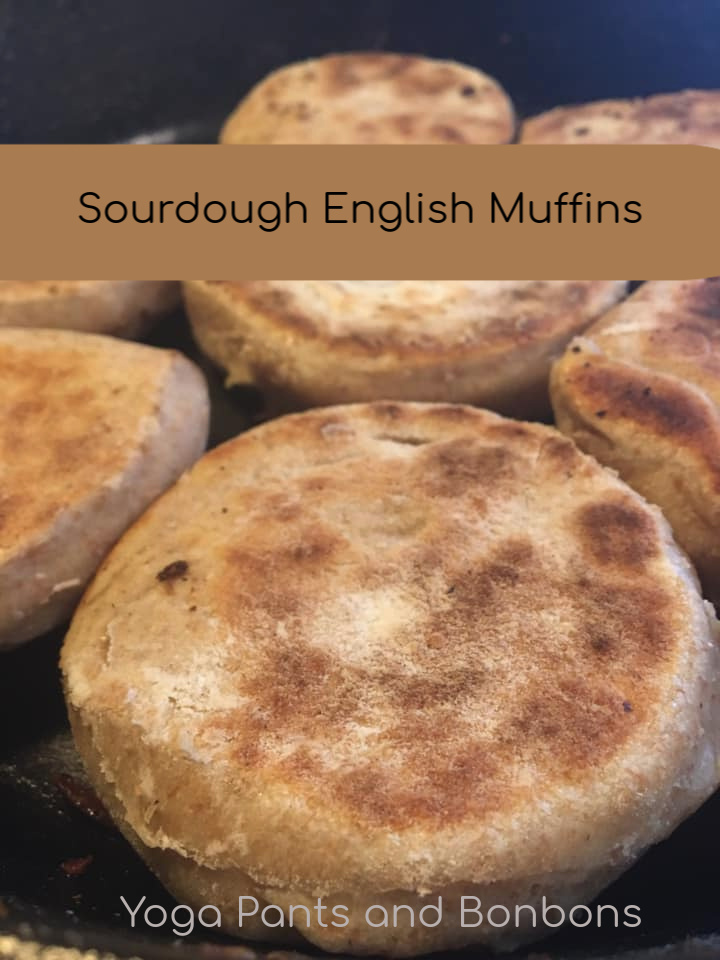 Sourdough English Muffins
prep time:
cook time:
total time:
Homemade English Muffins, soured by starter and browned on a skillet to create the perfect muffin, complete with nooks and crannies.
ingredients:
4 cups sourdough starter
5 cups water
3 cups whole wheat flour (I prefer red fife)
3 cups + 5-6 cups white flour (I prefer white, wheat khorasan)
2 TB baking powder
2 TB fat of choice (olive oil, bacon fat, softened butter)
1 TB salt
instructions:
Combine starter and water and stir.
Add wheat flour and stir.
Add white flour and stir.
Allow mixture to ferment for 8 hours or overnight.
Stir in baking powder, salt, and fat.
Add 4 cups white flour and begin kneading by hand.
Add remaining flour by the 1/2 cup until dough forms a ball and is no longer sticky.
Allow dough to rest for 2 hours.
Divide dough into 3 balls.
On floured surface, roll out one ball until 1/2" thick.
Cut dough using biscuit cutter or ring from wide mouthed mason jar.
Place raw biscuits on lightly floured or parchment covered cookie or jelly roll pan.
Repeat with remaining dough and allow to rise for an hour.
Heat cast iron skillet or pan on medium heat.
Brown biscuits until top, raw side begins to puff.
Flip and brown on other side for 2 minutes.
Remove from heat.